Casa do Arco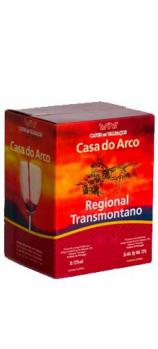 TECHNICAL SPECIFICATIONS:
Classification: Regional Transmontano
Region: Valpaços
Breeds: Trincadeira, Tinta Carvalha, Tinta Roriz, Mourisco Nacional
Type: Red
Alcoholic Strength: 13% volume

WINE-MAKING PROCESS:
After being collected, the grapes are destemmed and squeezed. The resulting liquid is driven into small fermentation tanks provided with refrigeration systems. Maceration enzymes are then added, which allows a maximal extraction of must, colouring matter and tannins. Later the selected yeasts are also added in order to start alcoholic fermentation. Throughout this period, which lasts among 4 and 8 days, rootstock is watered several times a day. The reassembly is scheduled depending on the maturation state of the grapes. The whole fermentation process is developed at a temperature between 25ºC a 28 ºC.

CHECKING NOTES:
Clear aspect, ruby colour with brownish shades. Wine-like aroma with red fruit notes. Balanced flavour, well-structured, soft, showing a certain evolution.

HOW TO SERVE:
Ideal to serve with red meat and meat products, as well as big fish and strong cheese. It must be served at a temperature between 16ºC and 18ºC, and the bottle must be opened an hour prior to drinking; if needed, pass it into a decanter in order to aerate the wine and highlight its organoleptic features.
Clear aspect and ruby colour with brownish shades, denotes the presence of dried fruit and honey, round and soft taste.
Available in bottles of:
0,375 litre and 0,75 litre.
1990 - Fenadegas gold medal
1990 - Ljubljana silver medal
1994 - Wine Masters Challange bronze medal
1994 - Expourense silver medal - Wine Masters Challenge bronze medal
1999 – Wine Masters Challenge recommended wine